Using Attachments in Skore
Why attachments

Attachments are helpful to add commentaries, context, details to an activity

Types of attachments
Attachment normally open in the right hand side panel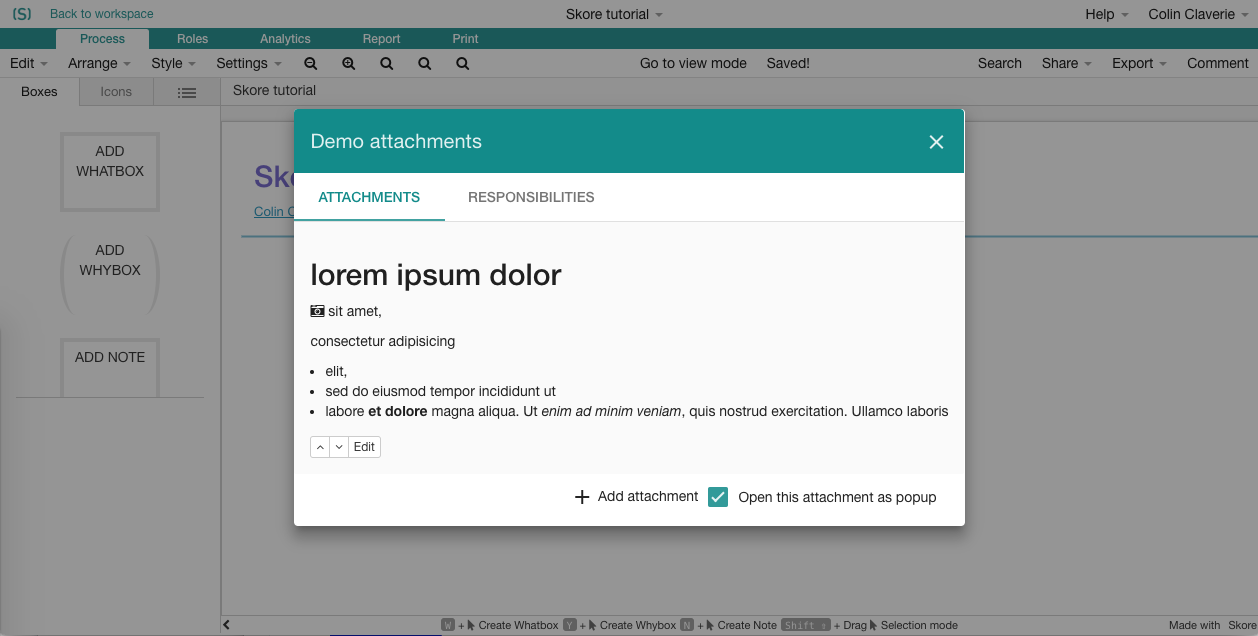 How to
How to add attachments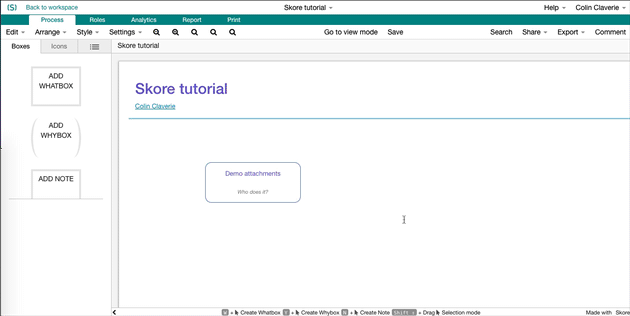 Open the attachment panel

Click "Add text" or "More..." to see other attachment types

Fill in the form

Click save when you are done

How to reorder attachments

When in edit mode, use the arrows below an attachment item to reorder it.

Report on attachments
As all content in Skore, the attachments can be reported on and exported in the REPORT tab.

Advanced features
How to hide the paperclip icon

When the box has 1 or more attachments, the paperclip icon will be shown on the box. You can change the box style (under the STYLE menu) to hide the paperclip.

Open attachment panel from text
If the paperclip icon has been hiden, you may want a way to open the panel anyway ? use this shortcode

[Open attachment panel](attachments)
To force open in a popup

[Open attachment panel](attachments popup)
See also

Related Articles

Attachments - External content

What it is External content makes it easy to add videos, maps, images to Skore attachments. Type of content Video Youtube Dailymotion Vimeo Image URL Google maps Generic iframe Note on iframe Probably the most versatile way to incorporate external ...

Using the Glossary in Skore

Who can create and edit terms: Editors and above Who can view terms: Anyone Introduction O2C? P2P? RFP? ISO? LOL? BR? HR? ER? What do these mean and how am I meant to keep track? Why use the Glossary? Acronyms and abbreviations are not always ...

Decision boxes / diamonds in Skore

Introduction Users that are new to Skore may ask how they draw, or represent, a decision diamond commonly found in other types of process mapping. Skore is based on the Universal Process Notation (UPN) which doesn't use decision diamonds but does ...

Quantify a Process in Skore

Why cost a process Understanding the cost of a process helps you make decisions about what and how to change it. For example, if you are looking at automating a part of a process you can use this feature to understand the opportunity cost saving that ...

Attachments - Custom fields

What is it ? Custom fields are a quick way to capture data in a structured way against an activity. Example: Risk description System used Location where the work takes place User stories Change Impact Cost of the activity etc. How to... How to add a ...