Create a process

Click the "New process" button in the top left.

Name the process. The name must be unique*

The new process is created in the workspace and is ready to be edited

Default access rights of a process

Anyone can see

Only you can edit

Report on process properties

On the workspace, switch the table view.



All the data of the processes are displayed in a table, allowing quick analysis and export to excel for further analysis



Pin a process to top of the page

A pinned process appears at the top of the workspace. We recommended pinning "portal" processes that may be entry points to other processes, or processes you would like users to see in priority.

It is possible to keep some processes on top of the page by pining them. Open the process menu on the card to pin / unpin a process.

Permission: only workspace admin can pin / unpin a process

Archive & Delete a process

A process must be archived before being deleted.

Archive a process from the process-menu.

See archived process by switching the view in the view menu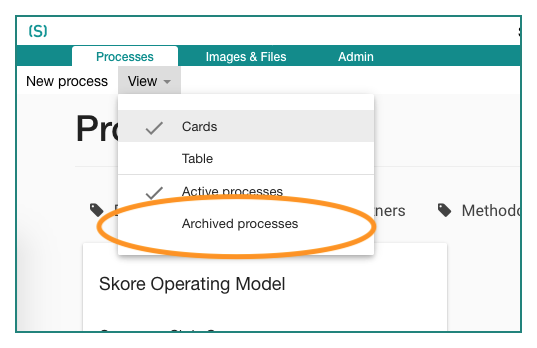 An archived process can be deleted.

Add keyword to process

Search processes

The search field will search in the following fields

process name

keywords

process purpose description

*technically only the URL (the "slug") must be unique.