Why access rights

Not everyone may be allowed to see or edit a process. Access right allow to manage who can do what on a process.

Viewers can view

To select who can view a process.

Editors can edit

To select who can make changes (i.e. edit) to a process

Permission to change access rights

editors with "can edit" right can change access rights of a process

workspace administrators can change access rights of any process

How to...

How to change access right

From the process menu: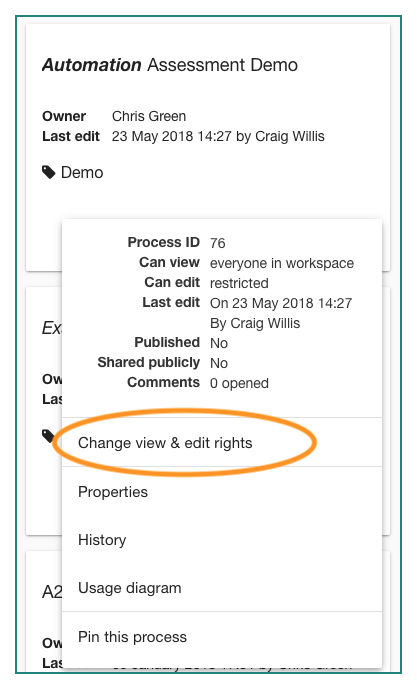 The access right modal.



Change access right of a process

Everyone in workspace / All editors of workspace : this is the most open way that doesn't restrict any access rights

Just me: only you can view / edit the process

Restricted: when selected, you can pick individual users

Notes

Workspace admin can see all processes of a workspace, even if they don't have explicit access rigths to them.

Workspace admin can change the access rights of all processes of the workspace. That means that a workspace admin can grant access, includign to herself, to any process

Process owner are not related to access right

Default access rights


Viewing: everyone in workspace

Editing: just me


Anyone who can edit a process can see it.

Summary

Users

| | |
| --- | --- |
| Adam | Admin |
| Eddy | Editor |
| Edma | Editor |
| Mary | Member |
| Maria | Member |
Groups

| | |
| --- | --- |
| Group 1 | Eddy + Mary |
| Group 2 | Maria + Mary |
Processes
V: can view
E : can edit
| | | | | | | | | | | | | | | | |
| --- | --- | --- | --- | --- | --- | --- | --- | --- | --- | --- | --- | --- | --- | --- | --- |
| | view | edit | view users | edit users | view groups | edit groups | Adam | Eddy | Edma | Mary | Maria | Note | | | |
| All view / All edit | all | all | n/a | n/a | n/a | n/a | VE | VE | VE | V | V | | | | |
| All view / restricted edit (individual) | all | restricted | n/a | Mary + Edma | n/a | n/a | V (as admin) | V | VE | V (member cannot edit) | V | | | | |
| All view / restricted edit (group) | all | restricted | n/a | n/a | n/a | Group 1 | V (as admin) | VE | V | V (member cannot edit) | V | | | | |
| Restricted view / all edit | restricted | all | none set | n/a | n/a | n/a | VE | VE | VE | no | no | equivalent to "only editors can view & edit this process" | | | |
| Restricted view / all edit | restricted | all | Mary | n/a | n/a | n/a | VE | VE | VE | V | no | | | | |
| Restricted view (group) / all edit | restricted | all | n/a | n/a | Group 1 | n/a | VE | VE | VE | V | no | | | | |
| | | | | | | | | | | | | | | | |
| | | | | | | | | | | | | | | | |
| | | | | | | | | | | | | | | | |
See also