(Legacy) Report and export process content
Reporting in Skore

All the content in Skore may be reported on (and exported in various formats) for further analysis outside the app.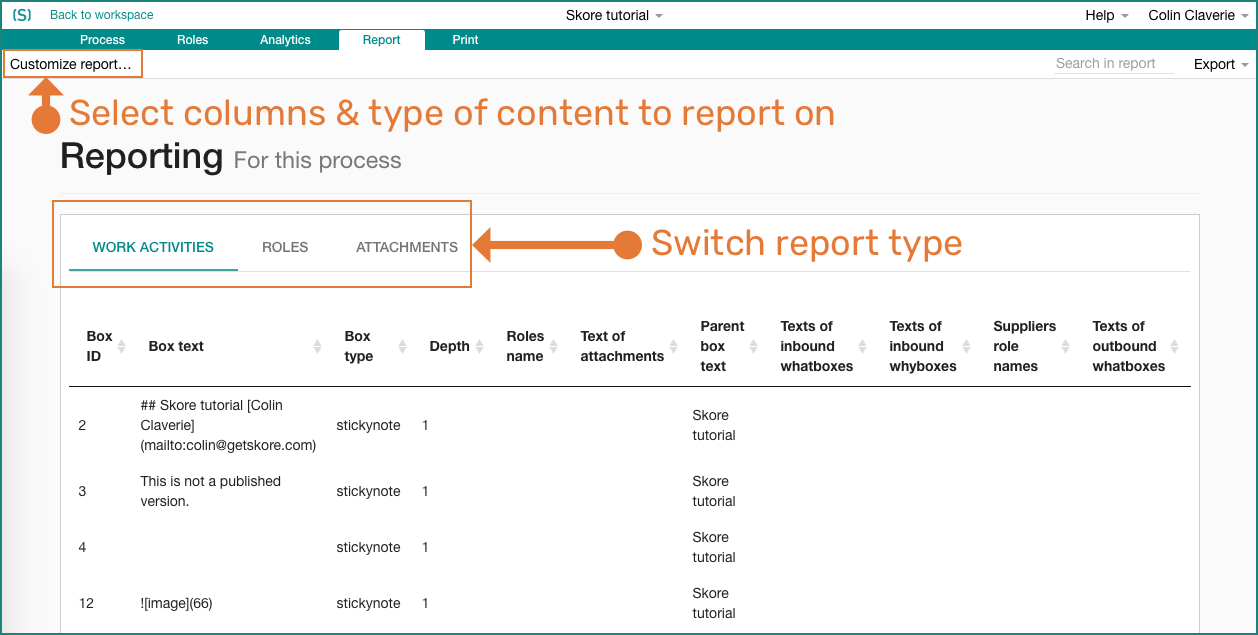 Different report type

Work activities

Will report on the boxes of the process. 1 line of report per box in the process.

Roles

Reports on roles assigned to boxes. 1 line of report per role assigned.

The role report is ideal for:

Analyse role usage

Export RACI matrix (or any responsibility matrix you are using)

Generate role based job description

Example
A box with 2 roles: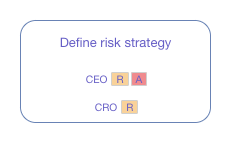 Will report 2 lines, one line per role

Attachments

Report on attachments.

Ideal for:
Analysis of custom fields

Extraction of recurring values

Customization option

How to
Report on process steps content

In a given process, go to the report tab

Switch report on the secondary tab bar
Export report
On a report page

Select "export" in the top right corner

You can export to


Excel: ideal for further analysis in excel

CSV: ideal for import into a third party system

Clipboard: data will be ready to be pasted anywhere you need

See also

Custom fields

questionnaire

manage roles
Related Articles

(Legacy) Process versions history

This article is for the legacy version of Skore. See latest article here: Process Version History. What is it? When working on a process, new revisions are created so that it is easier to see the history of changes, approve the right revision, or ...

(Legacy) Manage roles in Skore

This article is for the legacy version of Skore. See latest article here: Role Manager What is it After defining the work to be done in a process, the next, most important question is who does it? As you create processes in Skore, and add roles, you ...

(legacy) Manage Process properties

What is it Each process in Skore has a defined set of properties. Any Administrator or an Editor with Access Rights to a process can edit the processes. It is important to keep these properties up-to-date to help with the ongoing management and ...

(Legacy) Process owner

What is it In Skore, processes may have a process owner. This is not mandatory but a recommended practice to ensure the right ownership of the processes. How to... How to change the process owner of a process As an editor with "can edit" access right ...

(Legacy) Printing a process

What is it Printing a process is often a great way to engage users and collect feedback. How to... How to print a process Go to the print tab to see the print preview Change settings (see below) Press "Print now" when ready A new window will open ...