Available in Product Plan: Mapping • Analysis • Management

Feature available to: • Editor • Admin

How to access the properties of a process

Changing the name of a process

Enter the new process name in the 'Process Name' text field.
Changing the owner of a process

Upon creating a process, by default, the process will have no owner assigned.

A process owner can be assigned when the process is created, or retrospectively.

Once a process owner has been assigned, their name will appear on the process card in the workspace.
What is a process owner?

The process owner should be the person in the organisation who is accountable for the process
and typically responsible for actioning any process approval & publish requests.
They are generally the ultimate decision maker, but they don't need to know the mechanics of mapping, therefore, a process owner can be a member, editor or admin user.
To assign or change the process owner, simply type the name of the user into the 'Process owner' text field and select the user from the drop down list.
Populating the process purpose

What is the process purpose?

The process purpose is where you as the process owner/editor can provide context for the viewer by simply providing some information on
why this process exists.
You may also wish to include information here on the scope of the process and perhaps both the objective(s) and likely outcomes of the effective implementation of the process.
Simply enter your process purpose into the 'Purpose' text field.
Changing the process symbol

Select 'Change symbol' and pick a symbol from the list.
Archiving and deleting a process
What does archiving a process mean?

When archiving a process in your workspace, you are removing it from the 'active processes' view in the workspace to the 'archived processes' view.
This means that 'members' of the workspace will be unable to see or access the process, but the process is still retrievable & viewable by admins & editors of the workspace.
Think of it as your workspace recycle bin, where you have a chance to restore the process if needed.
What does deleting a process mean?

Deleting a process will permanently remove a process from the workspace. Thereby removing it from the 'archived processes' view.
How to Delete or Archive a Process

Select 'Archive / Delete' from the process menu, select the appropriate action and click 'Save'.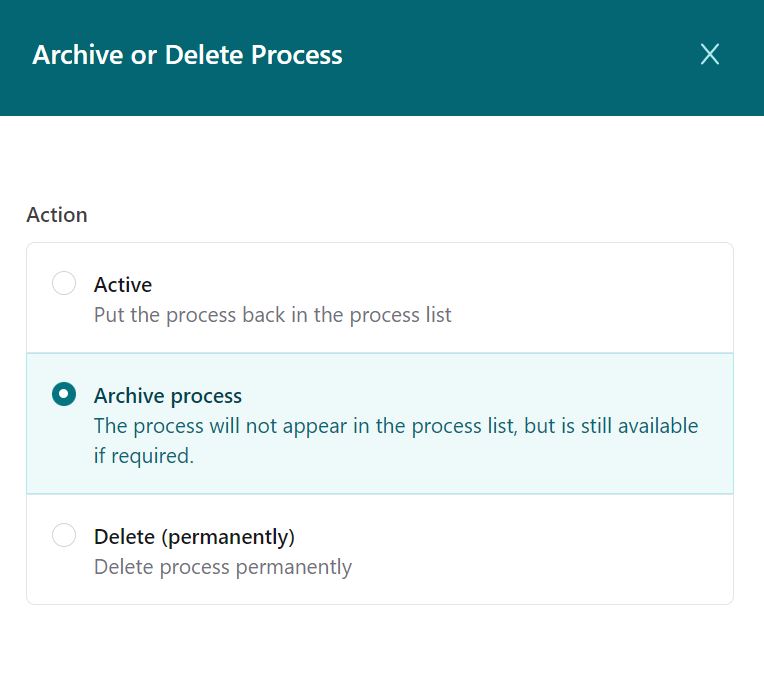 Accessing your archived processes

Use the filter button situated in the top right of your workspace to switch between 'archived' and 'active' processes.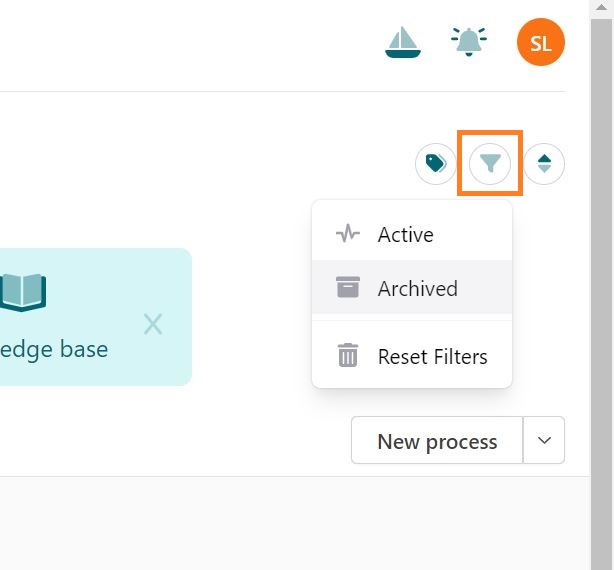 Pinning a process

A pinned process appears at the top of the workspace. We recommended pinning "portal" processes that may be entry points to other processes, or processes you would like users to see in priority.
Select 'Pin to the top'
from the process menu to pin a process.
Select 'Remove pin' to unpin the process.
Duplicate a process

Process history

Move process to a folder

Manage the access rights of a process

See Also

Article: