Map your first process

Define the scope of your process

Before mapping anything, it is best to spend time thinking about the scope:

What is the process about? Find a good title. Think of a sentence starting with "How to...?"

What triggers the process, what is the starting point?

What tells the process is finished, what tangible outcome has been produced?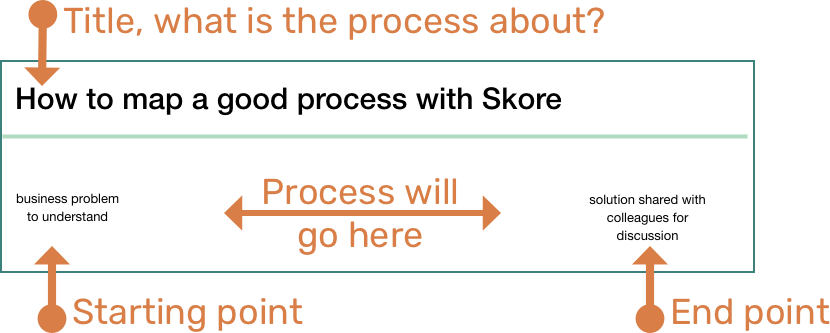 The start and end point are "whybox". See below.

Other questions to think through

Who is the owner of the process?

Who needs to be involved in the definition of the process?

Who needs to be trained on the new process?

What changes can be / cannot be made?

What is regulatory framework? Is there any compliance risk?

Add boxes to the canvas

Knowing what to map, we can start actually mapping.

Describe what happens

The standard rectangular shaped boxes (that we call whatboxes) are used to describe what happens - the work to be done - and who does it - the role or people responsible to carry out the activity


Best practices

What happens: Start describing the activity with a verb. It helps focusing on the aciton to do

Who does it: Use role

Describe why it happens

To better understand the work done, context is key. The second shape is called "whybox" and will describe...

What triggers a process

What outcome are produced

Connect boxes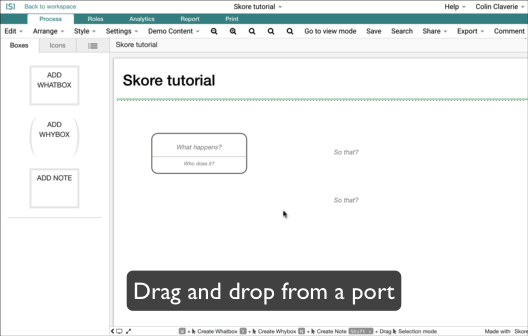 Drag one of the port of a box and drop the line anywhere on the canvas to create a new box. The new box will linked to the current one.
Note: the boxe type will alternate, whybox-whatbox-whybox-whatbox

Select one or more boxes

Select 1 box

Click anywhere on the box

Select several boxes together

Draw a selection square (shift + drag & drop if you are in "panning mode")

or

Press

CTRL

or

COMMAND

and select the boxes you want

See also

Mouse drag and drop behaviour: selection or pan

Move boxes on the canvas

Click on a box to select

Drag and drop it anywhere on the canvas to move it around

If you drop it "outside" the canvas, the canvas will be extended automatically

See also

Canvas setting (page view, paper size)

Remove one or more boxes

To remove 1 box: Click on the bin icon on the bottom left corner of a box

or

Select the boxes and


Edit menu and delete

press delete or backspace

Link boxes together

Drag one of the port of a box and drop it on another box.

By default, this links to the port on the left of a box

You can manually connect to another port

Notes:

A box can be linked to any number of other boxes.

Whatbox can only be linked to whyboxes or notes.

Whyboxes can only be linked to whatboxes or notes.

Next ?

Enrich processes with attachments

Create a hierarchical model and enter detailed view

Arrange box (alignment, spacing)

Add icons to make your process more attractive

Add titles and make the most out of note boxes

Group boxes

See also

Tips for mapping at the speed of talking

List of keyboard shortcuts