(Legacy) Process analysis
What is process analytics in Skore

Skore gives you an overview of what is going on in your process.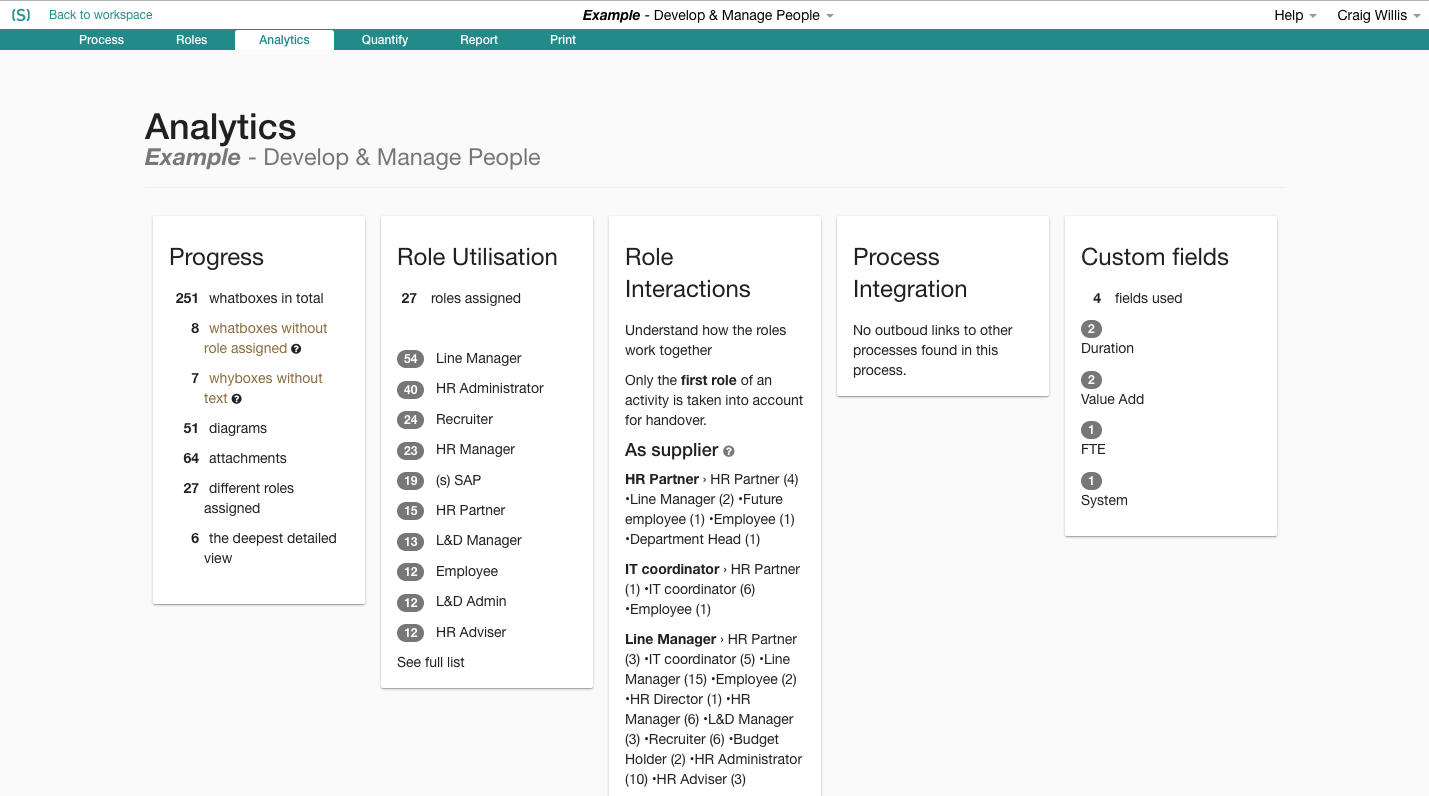 Panel: Progress

Provides insights into how your process model has developed. How many boxes, how many diagrams, how many levels - they all tell a story. The panel also shows you how many boxes are empty or have no roles assigned.
Panel: Role Utilisation

The most used roles (most assigned) in your process.

Click on the role to open the role manager.

Panel: Role Interactions

See how different roles interact with each other.

Panel: Process Integration

See the list of other processes in this workspace that are referenced.

This is subject to access rights of the current user.

Panel: Custom Fields

This panel highlights key Custom Fields that have been used in the process. For example it may include Ideas, Risks and Control points. The panel gives you an overview and what and how many.
See also

Related Articles

Process handover analysis

What is it ? Skore makes it easy to highlight where there is an handover between different roles. Handovers are very often a source of inefficiencies in a process, and having a good understanding of where are the handovers and what is handed over ...

(Legacy) Process owner

What is it In Skore, processes may have a process owner. This is not mandatory but a recommended practice to ensure the right ownership of the processes. How to... How to change the process owner of a process As an editor with "can edit" access right ...

(Legacy) Process versions history

This article is for the legacy version of Skore. See latest article here: Process Version History. What is it? When working on a process, new revisions are created so that it is easier to see the history of changes, approve the right revision, or ...

(Legacy) Report and export process content

Reporting in Skore All the content in Skore may be reported on (and exported in various formats) for further analysis outside the app. Different report type Work activities Will report on the boxes of the process. 1 line of report per box in the ...

(Legacy) Use variables in a process

This article is for the legacy version of Skore. See latest article here: Dynamic texts (process variables) What is it ? When we worked on process template, it quickly became obvious that we needed a way to make the templates dynamic Variables ...