(Legacy) Mapping at the speed of talking
Look like a boss in a workshop

Create boxes with the keyboard

Use the following keyboard shortcuts to create boxes

When a box is selected:

Press Space to create the next box
process SHIFT+SPACE to create the previous box

When no box is selected

Process W+Click to create a whatbox where your cursor is

Y+Click for whybox

N+Click for note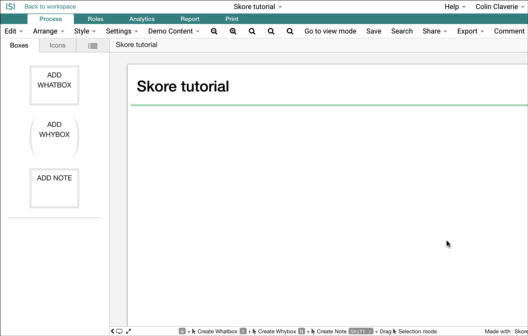 Change box selection

When a box is selected

Press TAB to selec the next box in the flow

If several boxes are candidates, press several time, fairly quickly, TAB to roll between the boxes

If no boxes is candidate, a new box will be created

Process SHIFT+SPACE to select previous box in the flow

Open the box editor

When a box is selected

Press ENTER to enter "edit mode"

Close box editor

Press enter to validate the changes where you are

Press TAB to go to the next input field

Press TAB on the last input field to validate the changes

Press ESCAPE to cancel your changes

Learn markdown to format text

Use the workshop mode
Zoom in and out
CTRL+Mouse scroll (COMMAND + Mouse scroll on mac)

Related Articles

Process Mapping basics

Map your first process Define the scope of your process Before mapping anything, it is best to spend time thinking about the scope: What is the process about? Find a good title. Think of a sentence starting with "How to...?" What triggers the ...

(Legacy) Keyboard shortcuts

What is it Skore has dozen of keyboard shortcuts to make it super fast to use the app. Example: Create box with 1 click. When on a process, from the help menu, you can open the list of keyboard shortcuts See also mapping at the speed of talking

User groups (Legacy)

This article is for the legacy version of Skore. See latest article here: Managing User Groups Why user groups When your workspaces reaches a significant number of users and processes, it becomes hard to manage access rights. User groups give a ...

(Legacy) Setup Skore Connect

Use Skore to capture processes and requirements at the speed of conversation in live workshops. Categorise each requirement, and automatically create Work Items in Azure Devops. Your development team can take over the work in their own platform. ...

(Legacy) Process versions history

This article is for the legacy version of Skore. See latest article here: Process Version History. What is it? When working on a process, new revisions are created so that it is easier to see the history of changes, approve the right revision, or ...