Mapping at the speed of talking
Look like a boss in a workshop

Create boxes with the keyboard

Use the following keyboard shortcuts to create boxes

When a box is selected:

Press Space to create the next box
process SHIFT+SPACE to create the previous box

When no box is selected

Process W+Click to create a whatbox where your cursor is

Y+Click for whybox

N+Click for note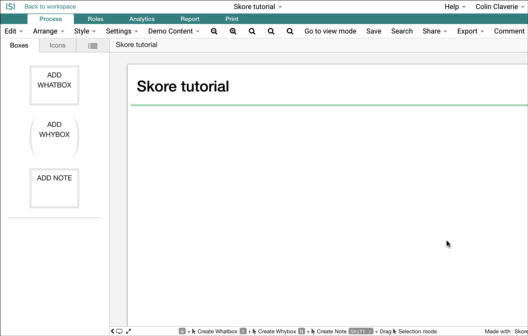 Change box selection

When a box is selected

Press TAB to selec the next box in the flow

If several boxes are candidates, press several time, fairly quickly, TAB to roll between the boxes

If no boxes is candidate, a new box will be created

Process SHIFT+SPACE to select previous box in the flow

Open the box editor

When a box is selected

Press ENTER to enter "edit mode"

Close box editor

Press enter to validate the changes where you are

Press TAB to go to the next input field

Press TAB on the last input field to validate the changes

Press ESCAPE to cancel your changes

Learn markdown to format text

Use the workshop mode
Zoom in and out
CTRL+Mouse scroll (COMMAND + Mouse scroll on mac)

Related Articles

Process Mapping basics

Map your first process Define the scope of your process Before mapping anything, it is best to spend time thinking about the scope: What is the process about? Find a good title. Think of a sentence starting with "How to...?" What triggers the ...

Keyboard shortcuts

What is it Skore has dozen of keyboard shortcuts to make it super fast to use the app. Example: Create box with 1 click. When on a process, from the help menu, you can open the list of keyboard shortcuts See also mapping at the speed of talking

Align, space apart, arrange boxes on the canvas

What is it There are a number of handy options available to align and arrange boxes on the canvas. Keeping your processes neat and tidy makes them easier to read and easier on the eye. We recommend tidying processes AFTER a workshop so that you don't ...

Workshop mode

What is the workshop mode In workshop mode the UI is reduced to a minimum, giving the maximum of space to the canvas. To make the most out of the workshop mode, it is best to be familiar with keyboard shortcuts! Switch workshop mode In the bottom ...

How to remove or clear detailed view from a whatbox

Available in all plans. See plans. What is it When mapping a process, it is sometimes necessary to "clear" the content of an entire detailed view. How to do Available for Editors with Can Edit access right on the process You need to be in Edit Mode ...