Feature available to: Member • Editor • Admin

What is process revision history?

Let's start by defining what we mean by a revision in Skore. A revision in Skore is a snapshot, or back-up, of a Skore process at a point in time.

Revisions are created automatically as you develop the process. They are created every 5 minutes if a change has happened in the last 5 minutes. As a use, you can also manually create a revision if you would like to take control yourself.

Having a history of process revisions provides many benefits:

See the evolution of a process over time

Compare the process at different moments in time

Restore a previous revision as the latest revision

Approve a revision to create a published version (see this article)

Revisions are immutable, meaning they are immune to future changes (e.g if a role is renamed an old revisions created before this change will still show the old role name)

Accessing the version history of a process

From the process list on the workspace: Open the process history

From the process itself, open "Map properties" and "Process History"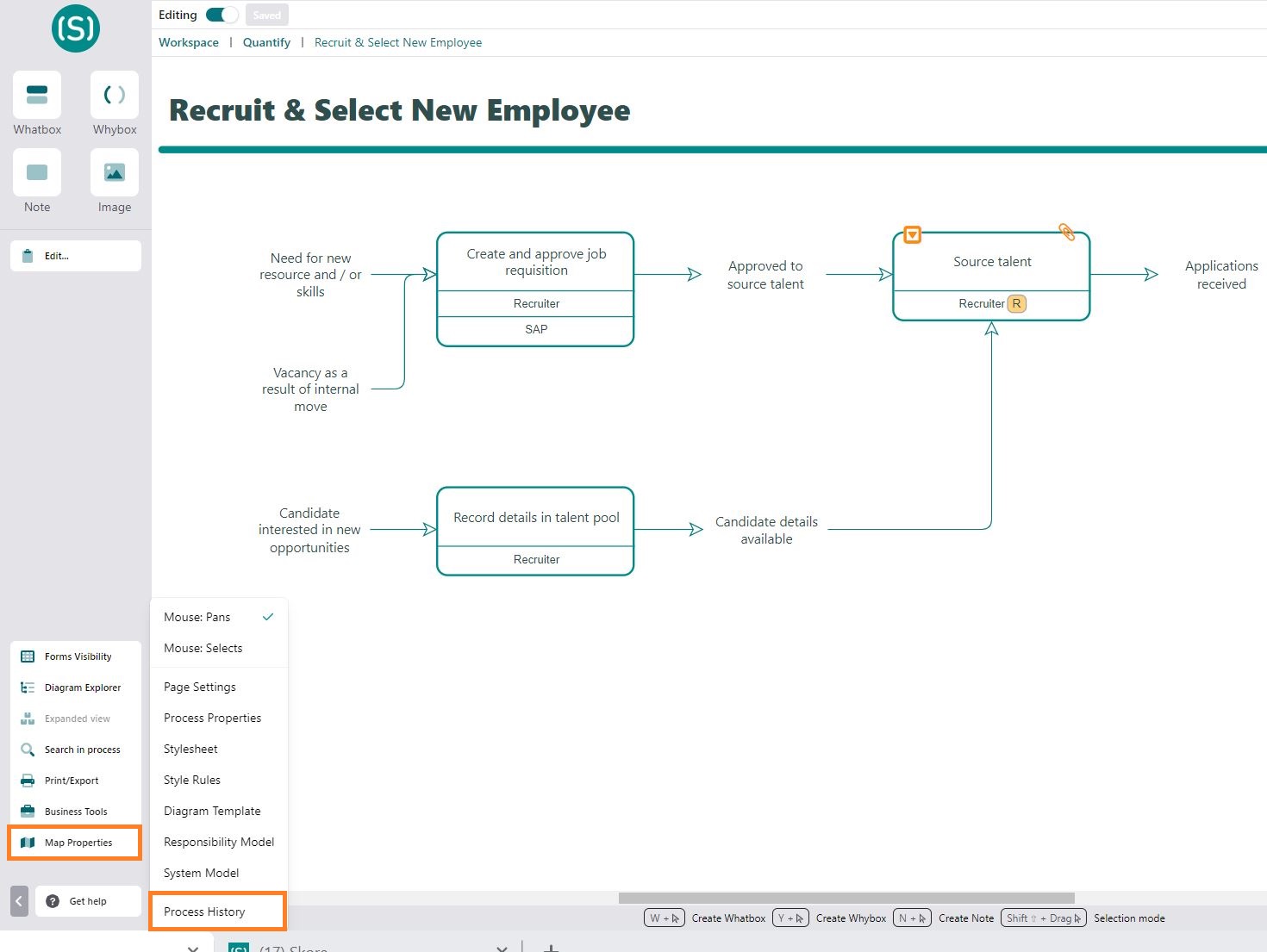 Viewing a revision

Once in the history page you will see all the revisions of a process.

A revision can be opened by clicking the relevant button.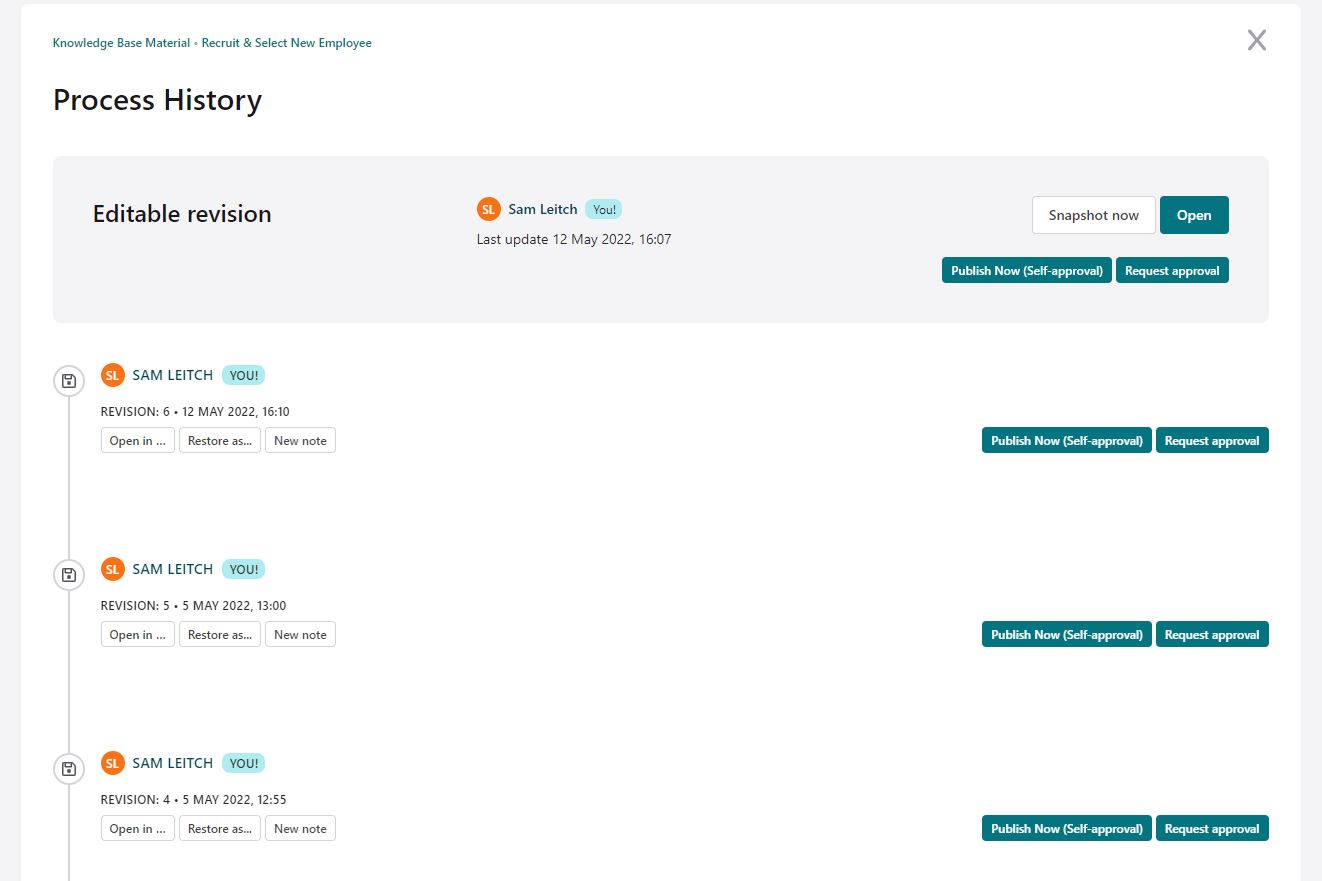 Restoring a revision

Sometimes it is necessary to "reuse" a revision. There are 2 options: make it the editable revision of the process, or create a new process from this revision.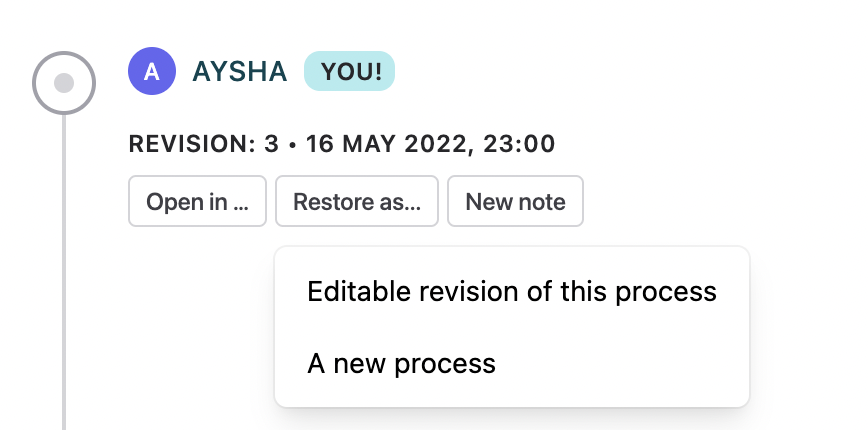 Restore as the editable revision

The selected revision will be duplicated (remember, revisions are immutable -- except the editable revision)

The newly created revision is set as the editable revision

The selected revision is not changed and still exists in the history as it is
Restore as a new process

A new process is created and the selected revision is added to this process, becoming the editable revision

the original selected revision is not changed, and still exists in the history as it was
Publishing a revision

Assigning a note to a revision

It is possible to add notes to a process

Creating a snapshot

Snapshots are created automatically every 5 minutes, but as a user you can generate a snapshot manually if you need to.
See Also

Article:

Publishing a process

Article: