How to remove or clear detailed view from a whatbox
What is it

When mapping a process, it is sometimes necessary to "clear" the content of an entire detailed view.

How to do


Available for Editors with Can Edit access right on the process
You need to be in Edit Mode

Select 1 or more whatboxes you wish to remove detailed view from

Go to Edit menu > Clear detailed view

All detailed view of selected boxes is removed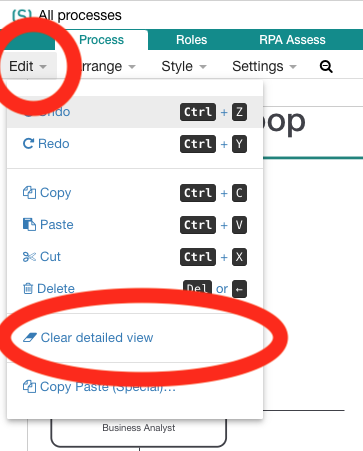 Related Articles

Create a detailed view or sub process

What is it? One of Skore core feature is the ability to create a hierarchy of processes This has several benefits Keep each level simple, shorter and understandable It forces thinking "high level" before going in the details Not everyone is ...

Process Mapping basics

Map your first process Define the scope of your process Before mapping anything, it is best to spend time thinking about the scope: What is the process about? Find a good title. Think of a sentence starting with "How to...?" What triggers the ...

Manage Process properties

What is it Each process in Skore has a defined set of properties. Any Administrator or an Editor with Access Rights to a process can edit the processes. It is important to keep these properties up-to-date to help with the ongoing management and ...

Create a process template

What is it? Ensure consistency of look and feel accross your processes with templates Moreover, processes What does a template contain ? Boxes Stylesheet Roles Canvas & Page settings How does a template work? At process creation When a new process ...

Decision boxes in Skore

What is it ? How to represent decision box in Skore. We do not have traditional "decision diamonds" so how to do in Skore? The decision This is usually an activity: define, decide, approve, review... and is described in an activity box / whatbox The ...