Attachments - URL / Web link
What is it

Add a link to a web destination

a web page on intranet or not

a document in sharepoint, google drive or any document management system

an online system or tool

How to

Add a "Web URL" Link and

Displayed text will be the text shown to use. If not documented, the URL will be used.

URL is the URL to open on click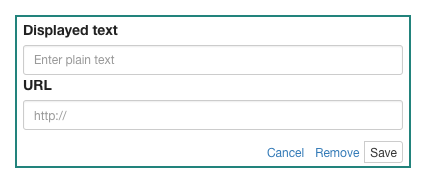 See also

Related Articles

Using Attachments in Skore

Why attachments Attachments are helpful to add commentaries, context, details to an activity Types of attachments Text : ideal to capture free-form information such as detailed URL Custom field External Content Attachment normally open in the right ...

Attachments - Custom fields

What is it ? Custom fields are a quick way to capture data in a structured way against an activity. Example: Risk description System used Location where the work takes place User stories Change Impact Cost of the activity etc. How to... How to add a ...

Attachments - External content

What it is External content makes it easy to add videos, maps, images to Skore attachments. Type of content Video Youtube Dailymotion Vimeo Image URL Google maps Generic iframe Note on iframe Probably the most versatile way to incorporate external ...

Attachment - Text

Learn about attachments in general What are text attachments? This is a the simplest way to add: Notes related to this piece of work Additional commentary Additional description of the work done in a box Add keywords or any "metadata" to the ...

Linking processes

What is it? When working with multiple processes in Skore, a great feature is the ability to link between whatboxes and processes. Integrating your processes in Skore helps to ensure that processes flow from end to end and makes navigation easy for ...