Align, space apart, arrange boxes on the canvas
What is it

There are a number of handy options available to align and arrange boxes on the canvas.

Keeping your processes neat and tidy makes them easier to read and easier on the eye. We recommend tidying processes AFTER a workshop so that you don't distract from the main task of mapping.
Most options are found in the arrange menu. The most common features have keyboard shortcuts which are shown against each option.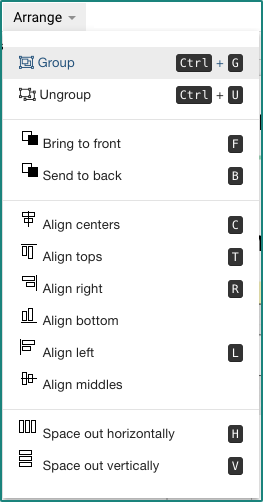 Align

Select more than 2 boxes (see box selection)

Choose an align / distribute function from the ARRANGE menu or keyboard shortcut

| | |
| --- | --- |
| Align | Reference box |
| Top | top most box |
| Right | right most box |
| Bottom | bottom most box (bottom border) |
| Left | left most box |
| Middle (horizontal axis) | top most middle of a box |
| Center (vertical axis) | left most center of a box |
Space out / Distribute

Spread boxes evenly between the left-most / top-most box and right-most / bottom-box accordingly.

Note that the computation is based on centers / middles of boxes, and not the space in between boxes

Order

It is possible to send boxes to front / back.


See also

Mapping at the speed of talking

Related Articles

(Legacy) Canvas, page and paper settings

This article is for the legacy version of Skore. See latest article here: Process map page settings What is it? In a world of digital content made of bits and pixel, good old paper still has its place. Skore processes are mapped on paper-shaped ...

Decision boxes / diamonds in Skore

Introduction Users that are new to Skore may ask how they draw, or represent, a decision diamond commonly found in other types of process mapping. Skore is based on the Universal Process Notation (UPN) which doesn't use decision diamonds but does ...

(Legacy) Group activities in Skore

What is it You can group activities so that users can see that some activities need to be understood in some contexts. Example: the upper flow only applies to large projects View process in Skore How to... How to group boxes Select the boxes to group ...

Process Mapping basics

Map your first process Define the scope of your process Before mapping anything, it is best to spend time thinking about the scope: What is the process about? Find a good title. Think of a sentence starting with "How to...?" What triggers the ...

Lock box position in place (Notes, Whatboxes and Whyboxes)

What is it You can "lock" boxes so that they don't get in your way when you are working in a process A lock box: Does not highlight on mouse over Is not selectable In other words, it looks like it's part of the background Locked boxes have been ...